Least Restrictive Environment
The SELPA Administrators of California strongly believe that every child has a right to be educated in the least restrictive environment (also known as "the LRE") according to the intent of the law. The provisions around Least Restrictive Environment in the Individuals with Disabilities Education Act (IDEA) are found at §§300.114 through 300.117. Specifically, IDEA requires: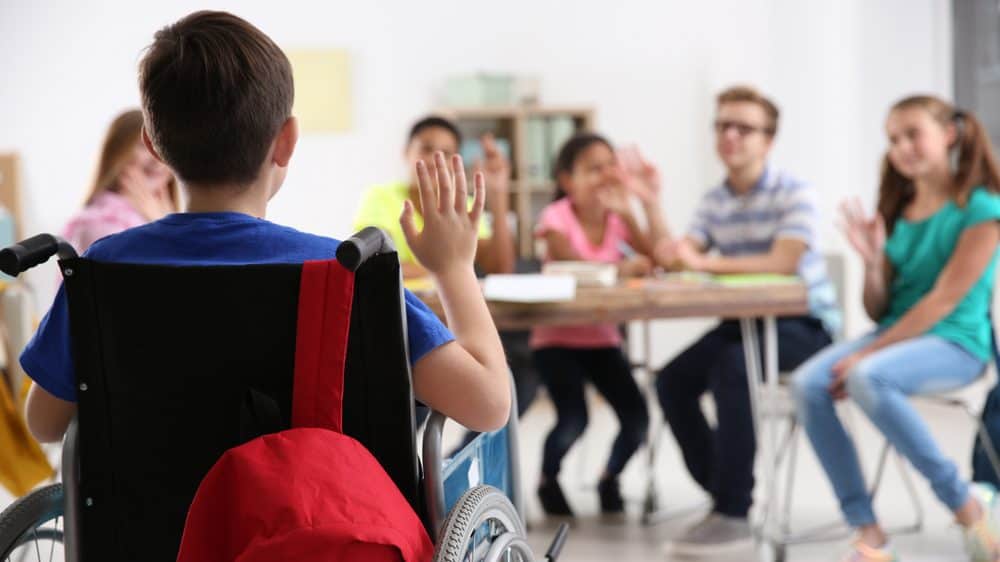 Each public agency must ensure that—
(i) To the maximum extent appropriate, children with disabilities, including children in public or private institutions or other care facilities, are educated with children who are nondisabled; and
(ii) Special classes, separate schooling, or other removals of children with disabilities from the regular educational environment occur only if the nature or severity of the disability is such that education in regular classes with the use of supplementary aids and services cannot be achieved satisfactorily. [§300.114(a]
Our members believe in the power of inclusion for students with disabilities and that a vast body of research in the area supports that students who are included often experience better outcomes in the areas of academics, social skills, behavior, and self-advocacy. Many key initiatives that support inclusive practices such as universal design for learning (UDL), co-teaching, inclusion support, and learning center design, are ones that SELPA Administrators assist their LEAs with by providing training and coaching.

SELPA Inclusion Resolution
SELPA Resolution 22/23-01, "On the Urgency of Inclusive Education for Students with Disabilities in California Schools," adopted on Unity Day, October 19, 2022

Research and Articles Supporting the LRE
"Best Practices in Reintegration and Special Education Exit Decisions," Best Practices in School Psychology, Chapter 36, by Powell-Smith and Ball
"California moves to bring special education students 'into the fold' of mainstream education," EdSource, March 14, 2016
"How to Include Students with Disabilities in General Education in 4 Easy Steps," by Tim Villegas for the Weeklyish
"Inclusion, Least Restrictive Environment, and Mainstreaming" - a Wrightslaw collection of articles on these topics
"Inclusive Education Research and Practice - Inclusion Works," a summary of research findings for the Maryland Coalition for Inclusive Education
Inclusive Practices for Pennsylvania Teachers
LRE: An English Translation of Key Legal Requirements - by the PACER Center
So You Think You Understand UDL? - eSchool News, November 2018
"Student Voice Key to Unlocking Inclusive Educational Practices," by Maria Gordon, University of Ottawa
"What is the Least Restrictive Environment?" - an easy to understand version of the law by Understood.org
Why UDL Matters for English Language Learners - Language Magazine, March 2018

Resources for Inclusive Instructional Practices
CAST Universal Design for Learning (UDL) Institute Padlet - from Systems Improvement Leads
Co-Teaching - Better Together! Padlet - from the Supporting Inclusive Practices Project
Culturally Sustaining, Linguistically Appropriate, and Universally Designed Instruction - Dr. Katie Novak, November 2018
Getting Started With UDL - Pam Tupy and Rhonda Marriott, CA MTSS Conference, July 2018
Inclusive Library Resources for Ages 0-5 Years - from Supporting Inclusive Practices Project
Inclusive Schools Network - An organization with practical resources for building inclusive educational environments
Supporting Inclusive Practices - A state-sponsored technical assistance project to assist educators in creating more inclusive, equitable systems
Supporting Inclusive Practices (SIP) Resources Padlet - from the Supporting Inclusive Practices Project
Universal Design for Learning 101, Day 1 Presentation Links, Hiking UDL Backchannel 2019 - Dr. Katie Novak