Champions Club Partnerships

The SELPA Administrators of California is proud to partner with numerous agencies and vendors with whom we work in our scope of practice, and whose goals and values align with the mission of our Association, to champion educational access and opportunities for students with disabilities across California. Our impact is unique:
♦ There are a total of 137 SELPAs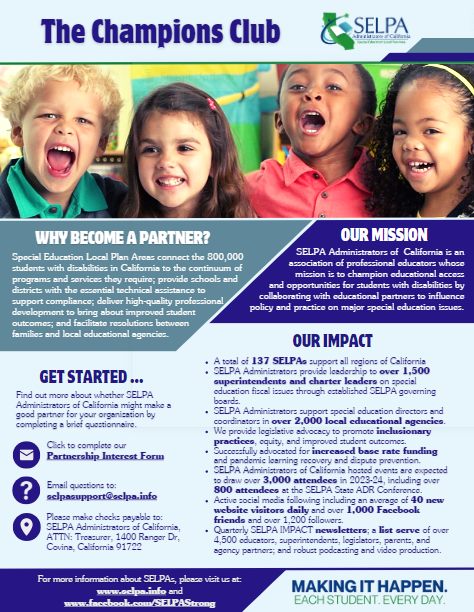 that support all regions of California
♦ SELPA Administrators provide leadership to over 1,500 superintendents and charter leaders through
established SELPA governing boards.
♦ SELPA Administrators support special education directors and coordinators in over 2,000 local
educational agencies.
♦ We provide legislative advocacy to promote inclusionary practices, equity, and improved student
outcomes.
♦ Successfully advocated for increased base rate funding and pandemic learning recovery and dispute
prevention.
♦ SELPA events are expected to draw over 3,000 attendees in 2023-24, with 800+ attendees at the
SELPA State ADR Conference.
♦ Active social media following including an average of 40 new website visitors daily and over 1,000
Facebook friends and over 1,200 followers.
♦ Quarterly SELPA IMPACT newsletters; a list serve of over 4,500 educators, superintendents,
legislators, and educational partners.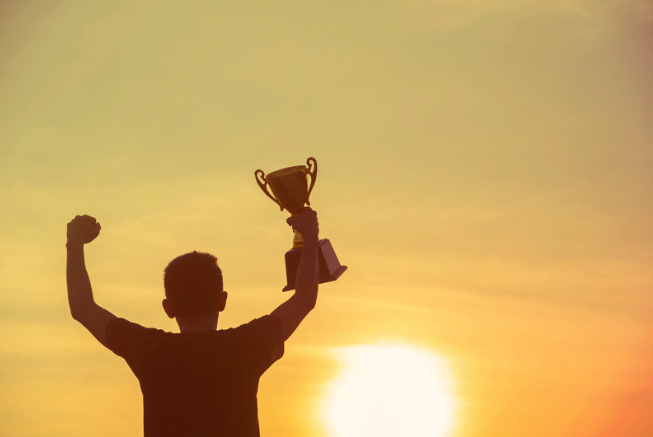 Champions Club activities are managed by the SELPA Expansion & Event Design (SEED) Committee on behalf of the Executive Committee, which has a liaison to SEED. Partnership Interest Forms will be reviewed by members of the committee with a special focus to alignment to the mission of the association, and recommendations will be brought to the Steering Committee and the membership for approval. A representative will reach out to your designated contact to discuss options below or tailor something specific for your giving needs. Once approved, we will officially welcome you to the Club!